latest work
September 14th, 2012 by Peter Mitchell
Tweet
It would appear that my quest to get a placement during my time at university has been successfully accomplished.
The boss at Aberdeen Web Design company Studio NEC has kindly allowed me to join his team with the main part of my daily tasks being involved heavily in the SEO area of their services. I will be joining the team on as many days as I can manage to fit in around my university timetable, but I am extremely excited to get stuck in and start seeing results for both their own website as well as current and future clients.
I'm pretty sure I'm capable enough to make an impact whilst also being able to develop my skills in the field of SEO. My tasks, I believe won't be only on the optimisation of websites, but also will include dabbling in other web design/development aspects of their client work. This has to be the best kind of placement that I could have asked for as it allows me to get my hands dirty in every aspect of the things I will be learning at uni AND some extra stuff that can only truly be learned on the practical side of things.
I cannot wait to start with them and hope it is the start of something much bigger. Keep an eye on your rankings folks, 'cos I'm coming for you.
This post currently has no responses. Comment on this post.
---
September 14th, 2012 by Peter Mitchell
Tweet
This summer has been a pretty interesting one for me. I've been off university for since March and I've struggled to get myself noticed as much as possible by advertising my web design services on Gumtree, Facebook and any other way I possibly could imagine. Nothing came of it for a long time and I gave up trying and just got involved in the local media scene by following local companies and their employees on twitter. This led to striking up friendships and getting to know the people involved in the local business area of which I was looking to enter after I graduated.
Towards the end of the summer I decided I was going to advertise myself again in the hope of getting some little projects to start the cogs in my brain again and blow the dust off my copy of textmate before I headed back to university for my final year. Boy did I not expect what was going to happen next.
Within the space of a few days I was contacted by a local creative design company in Aberdeen asking me to do a freelance project for them. I couldn't have been happier to oblige as I really wanted to test myself and see what I was capable of. That's not the only thing though as I was also contacted by a friend on facebook who had spotted my "page" and asked if I would create a website for his business.
The thought of having two projects at once, was something that I looked forward to rather than hated, as it meant I was going to have to test my ability to manage two seperate projects. This would be something that would definitely be advantageous to me in both university and when working in a real client focused environment.
I have completed the freelance project for the company in Aberdeen and still currently working on the other project at the moment, but hope to have it completed in the next few days.
I would just like to extend a big thank you to Deer Digital for giving me the opportunity to work with them. It definitely helped me to develop some of my skills further into something that I would normally not get the chance to.
This post currently has no responses. Comment on this post.
---
personal
March 1st, 2012 by Peter Mitchell
Well as you can probably tell, it has been a while since I've updated this blog/portfolio, mainly due to having all my time consumed by either University or the gym.
I can't remember if I was attending university when I last posted on here, but after working in full time employment in a job that I wasn't enjoying for almost 2 years I decided that enough was enough and I was going to go back to education. Doing this was probably the best decision that I have ever made.  I am now a second year student at RGU in Aberdeen, studying "Computing for Internet and Multimedia".
Having just completed my first semester, I came out with A,A,B,C,D for my first set of examinations/courseworks in almost 4 years, which I am pretty happy about. Obviously room for improvement, but it's better than a fail which is what I expected to get considering Java is not my strongest point at the moment. I will be working on changing that though.
Onto semester two…..
This post currently has no responses. Comment on this post.
---
August 31st, 2011 by Peter Mitchell

I love the internet, it says so on the main part of my site, so to me nothing is more enjoyable than being able to do work on the internet whilst on the move. Bring in my iPad. It's brilliant for doing so and I'm going to share with you the contents of my "Web Development" folder.
First app up is Bamboo Paper
  This is pretty much your very own sketchpad. You boot the app up and you're greeted with a book. Open the book and it's the first page of your sketchbook. Draw, design, erase, colour, write. Just let your creative juices of your next big website design flow through your finger and appear on the screen without having a pencil and paper. Even better is that this app allows you to share your sketches. You can Email the page as an image, which is perfect for sending to clients if they want a quick copy of your ideas. There is also the option to save the page as a photo, or print the page. Fantastic app and definitely one I recommend to those always on the move.
---
  Next up is Dropbox
I use this app to share files with clients. It lets you see documents that you have on your computer at home whilst on the move. Uploading the files to your private dropbox folder from your home computer, you can access them all whilst out and about, or even give other people access to your files. Sharing files with others is simple and can be done in seconds.
---
Gusto
For my next choice of Web development apps I have chosen Gusto. Gusto is an app which allows you access to your online websites whilst on the move. Set it up with your servers through FTP and you can download or upload your website files right to/from your iPad. What's better is that it then allows you to edit your text files. This is brilliant if you have to make really urgent changes to your site, but don't have access to a computer. Certainly one of my favourite apps to have.
---
Got a really bad memory? Reminders app is one that can help you with that.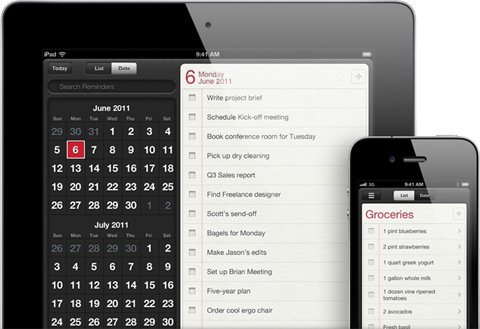 Set it up to remind you of things that you need to do during the day. It allows you to also mark tasks as completed. This can be very handy as a workflow to show the progress you are making through a project and what other parts still need worked on.
---
The next is the standard Notes app.
Meeting a client, but forgot to take a pen and paper? Use this handy app to keep yourself organised with questions you want to ask and then type up their answers using the handy on screen keyboard. It's a notepad app, pretty much speaks for itself.
---
Last but not least is my latest discovery CodeToGo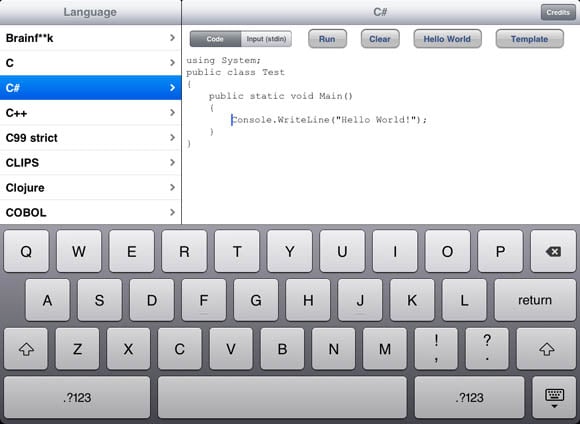 If like me you are teaching yourself Java or another programming language, it can be frustrating to be reading your book, but unable to do the practical parts as you can't access a computer. This app is perfect for this. Supporting an impressive list of languages, this app will let you write java (or any code you need to work on) on your ipad. Not only that but it takes it one step further by also letting your run your code. I have only tested this using really basic Java code, like the standard "Hello World" and other basics, but I was definitely pleased with the results. One app I will definitely be looking forward to using over the coming months. Right so that's my roundup of the apps in my "Web Development" iPad folder. Hopefully it's given you an idea of the apps out there in app store. Until next time folks….
This post currently has no responses. Comment on this post.
---